2013 Events Photo Gallery

Please join us for holiday festivities.

Holiday Open House
and
Meet our New Owner,
Cyn-d Cunningham

Saturday, December 7, 2013
9:00 - 4:00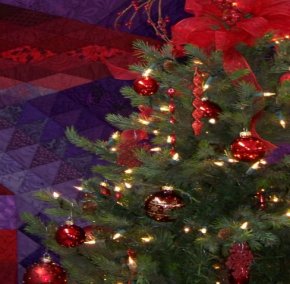 Door Prizes
A Big Fabric Sale

Demonstrations by Fabric Artist, Mary Jardine

Trunk Show by Bren of Brensan Studios

Holiday Decorations & Music

Visit our Fiber Art Gallery for unique gifts
Gift items for holiday giving
---
It's time, once again, to start planning the Sedona Public Library Annual Quilt Show.
It is highly anticipated and attended. We hope you choose to be part of it.
SEDONA
PUBLIC LIBRARY
ANNUAL QUILT SHOW
Show runs from December 26, 2013
through February 6, 2014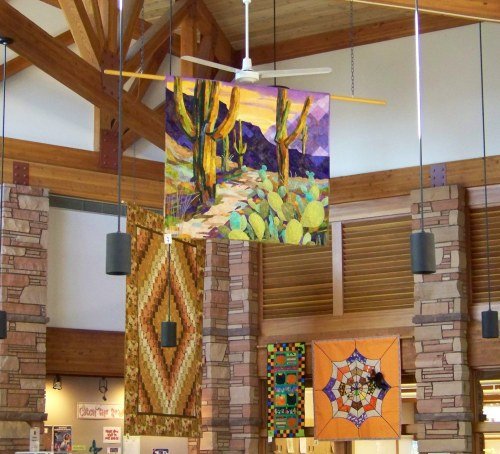 Quilts hung around the library information desk from the 2012 - 2013 Library Quilt Show.

We invite local quilters to participate in this community event.
Quilts can be dropped off at Quilters Store Sedona from December 8 through December 16, 2013.
The Library is located at 3250 White Bear Road, Sedona.
___________________________________________________________________________

PHOTO GALLERY OF PAST EVENTS THIS YEAR

__________________________________________________________________________
BACK-TO-BASICS SALE


Friday, August 30 thru
Sunday, September 1, 2013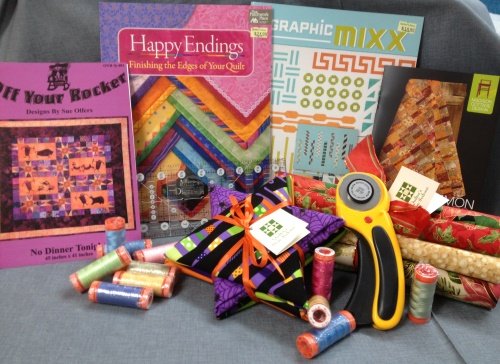 Our end of summer sale.
---
SUMMER YARD SALE
Saturday, August 10, 2013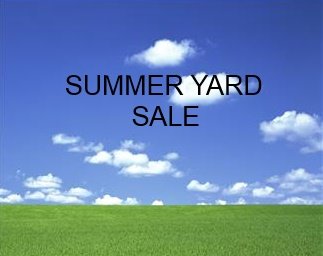 We cleaned out our drawers and closets one more time for
Sizzling Specials on everything!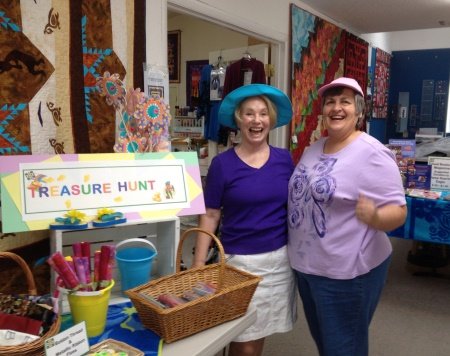 A very fun day for all.


---
Northern Arizona
Beat the Heat Shop Hop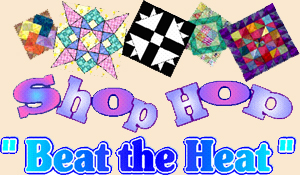 Thursday July 11, 2013
through Saturday, July 20, 2013

What a fun Shop Hop this turned out to be. Maylee of Seams Sew Right in Precott organized not just one bus but two buses to chauffeur quilters between stores and all in one day.

Here comes the first bus.

The bus has arrived!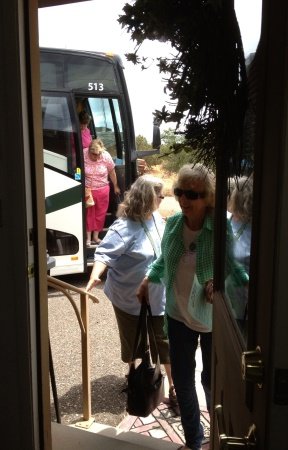 The quilters are unloading.




The quilters receive their gift and get their passports stamped
as they enter the Store.
Now it's time to shop!


The drawing for prizes took place on Thursday, July 25, 2013.

Grand Prize
A ROLLING TUTTO
Sewing Machine Case
Overflowing with Quilting Goodies and Gift Certificates

plus 14 Store and Vendor Gift Baskets
And the winners are . . .


Grand Prize - Jennifer Stocker, Cordes Lakes
Quilt n' Sew Connection Basket - Dee Feldhaus, Prescott
Cloth Plus Basket - Ada Stearn, Cornville
Seams Sew Right Basket - Maureen Pastika, Pine
Quilter's Quarters Basket - Jan Stevens, Prescott
Quilter's Store Sedona Basket - Judy Larson, Chino Valley
Odegaard's Sewing Center Basket - Rosie Zygmunt, Prescott
Quilting Sisters Basket - Nancy Dupree, Prescott
Vendor Basket - Mary Lou Masters, Prescott Valley
Vendor Basket - Rozella Leonard, Winslow
Vendor Basket - Vicki Hussey, Prescott
Vendor Basket - Barbara Dierberger, Gilbert
Vendor Basket - Pam Smith, Payson
Vendor Basket - Joan Carrell, Dewey6
Vendor Basket - Renee Hromish, Phoenix


The seven participating shops were:
Quilting Sisters (Payson), Seams Sew Right Quilt Studio Prescott),
Quilt n' Sew Connection (Prescott Valley), Cloth Plus (Prescott Valley),
Quilter's Quarters & Bernina Too (Cottonwood), Quilter's Store Sedona (Sedona)
Odegaards' Sewing Center (Flagstaff)
---
T
he Red Rock Quilters of Sedona
presented
"Sedona Sunrise" Quiltfest 2013

Saturday, April 27, 2013
at the
Quilter's Store Sedona



View from the street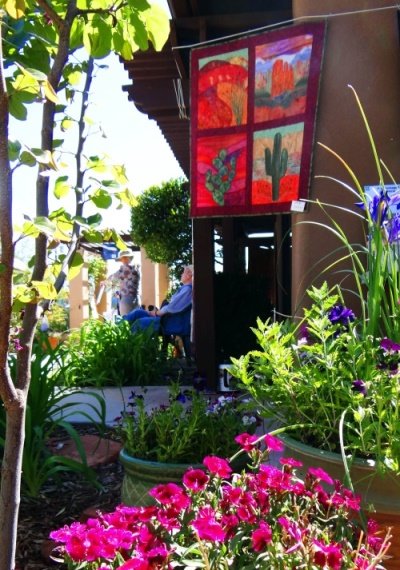 Courtyard
with "High Desert Arizona" by Valene Sattler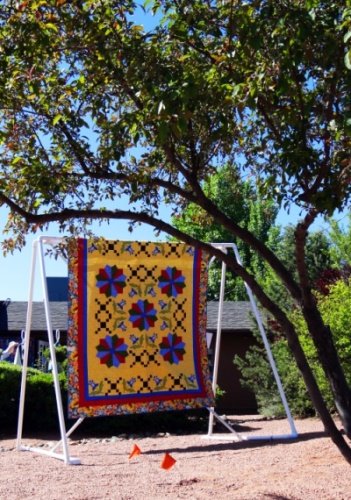 "Morning Sun" by Joyce Ziebarth
"Lizards Trail" by Karin Scanlon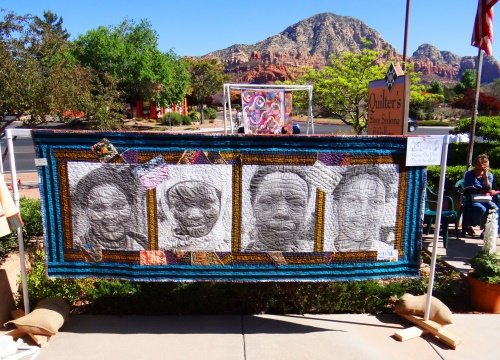 "For the Love of a Mother" by Mary Fisher
Poetry Challenge
"Sea Creatures I Have Known and Loved" by Ann Uruburu
Wearable Art by Karen Barrow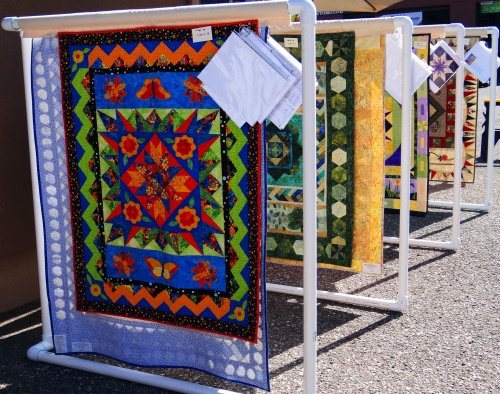 Round Robin Quilts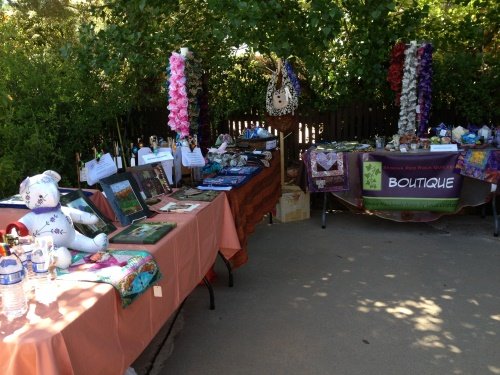 Guild's Boutique
Eunice and Sherry selling tickets for the Sedona Sunrise opportunity quilt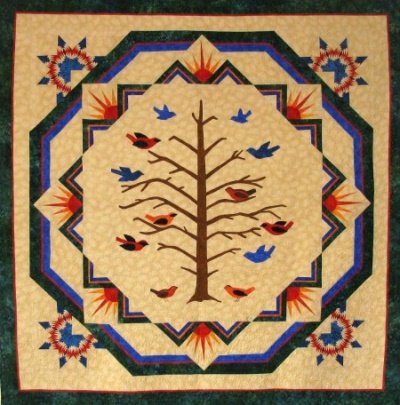 "Sedona Sunrise" 57" x 58"
Opportunity Quilt
What a beautiful day of spring festivities throughout the property outside and inside the Store:


Outdoor Quilt Show
Boutique Items and Quilts for Sale
Demonstrations
Opportunity Quilt Raffle

Inside the Store, Tammy Kelly was our special guest artist for the day with her original Quiltspirations. Tammy creates small art quilts from fabric scraps, a few beads and a lot of imagination. Tammy's Quiltspirations are suitable for framing or can be displayed on an easel.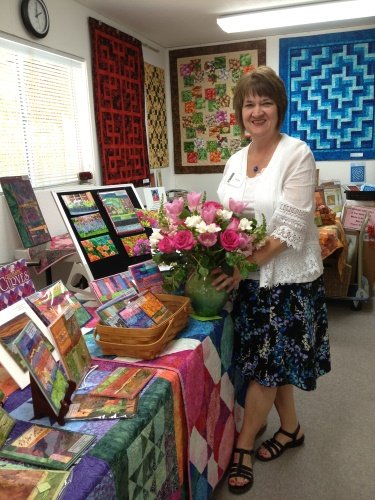 Tammy Kelly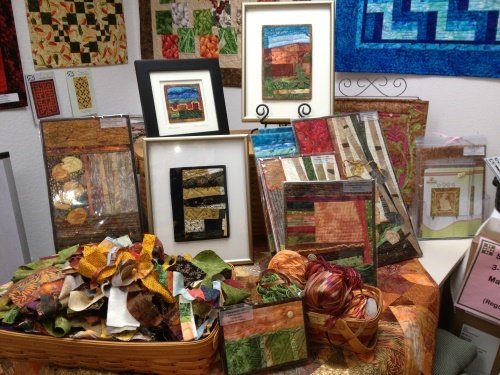 Quiltspirations by Tammy Kelly



Hope you enjoyed the show!
---

Our local quilters had another great year of creativity in quiltmaking.
50 beautiful quilts were on display at the
SEDONA PUBLIC LIBRARY
ANNUAL QUILT SHOW
December 27, 2012 through February 7, 2013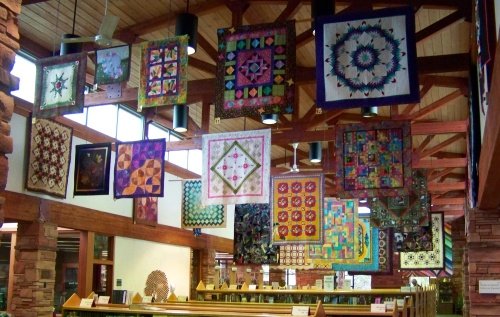 Overview from the right side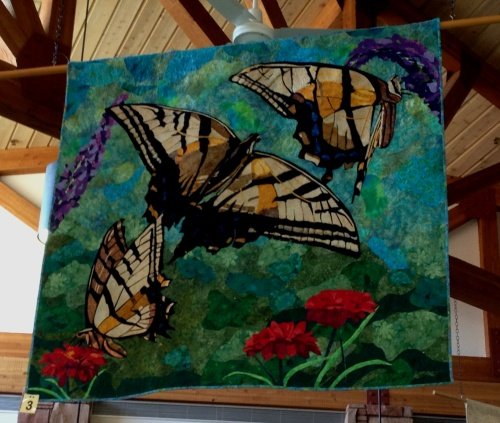 "Swallowtail Summer" by Patsy Kittredge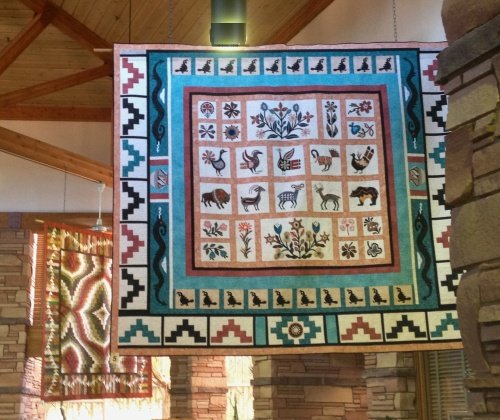 "Mimbres Memories Anew" by Jan Oden and her quilting group, The Last Straws
110" x 98"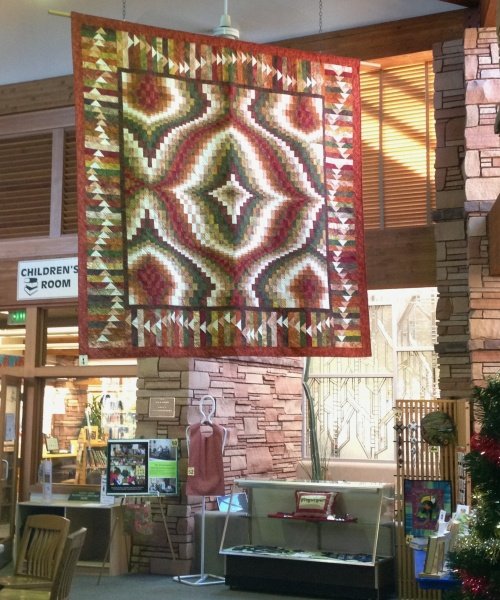 "Autumn Geese" by Diane Dixon
105" x 105"
Available for purchase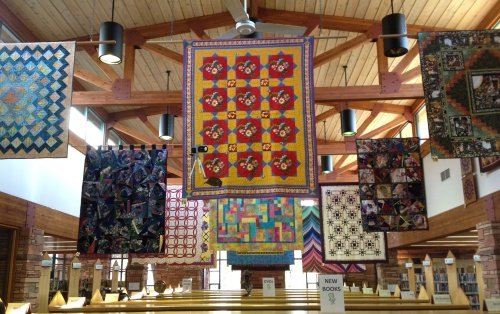 The view from Row 3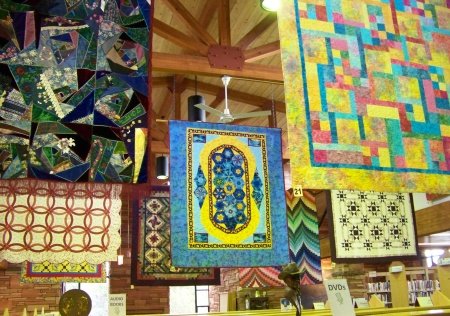 The view from Row 4. Notice the modern-day, lovely crazy quilt.
Row 5 of quilts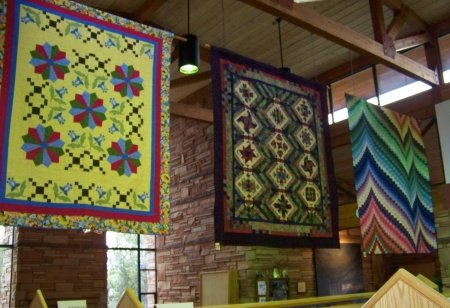 The last row with the "big" quilts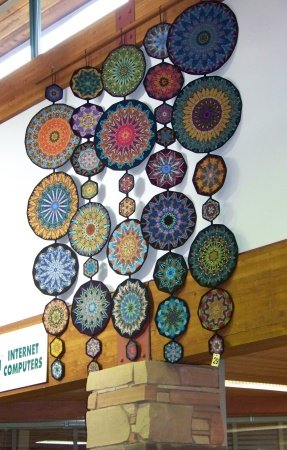 Strings of Kaleidoscopes by Liz and Mike Mulbarger

The Quilt Show ran from December 27, 2012 through February 7, 2013.

The Sedona Public Library is just around the corner from us at
3250 White Bear Road, Sedona.

---